This is another major update in CNR's history!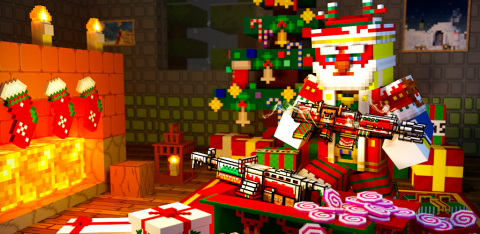 Madge
Wed, 12/26/2018 - 23:03
Hey guys! We're glad to introduce a brand new CNR update, it brings along some cool new features. Please join the event and have fun. Read More
MAJOR UPDATE IN WEAPON SYSTEM
1. We set quality mark for weapons. There are five levels of quality in game. They are: S/A/B/C/D. Attribute adjustments to existing system weapons make system and custom weapons more balanced.
2. We add a new prop – "Weapon Enchanted Card". By enchanting a card on a weapon, you will get various types of special abilities.
3. In conjunction with the new PVE mode - Zombie Mode, the new attribute of the weapon – "Bio-Charged" is opened to enhance the damage in this mode.
4. We add "Weapon Skin" function: the same weapon can switch different skins in inventory, and some rare skins carry special attributes. In this version, more than 20 weapon skins are added, which can be unboxed through the weapon skin chest.
5. Added the new weapon type - "Special Weapons" and put on the first special weapon - Railgun GX6.
6. Adjusted price and attribute bonus of the weapon upgrade feature.
NEW PVE MODE - ZOMBIE MODE
1. You can choose Single or Team to start the challenge.
2. Challenge the new mode and win a lot of rare items and coins!
"ICE CARNIVAL" EVENT
1. Open limited Carnival VIP: get exclusive quality A weapon, lots of privileges and props.
2. Complete the quests everyday to collect candies: exchange the holiday limited weapon skin, open the carnival chest to win epic S weapon and holiday armor suit.
OTHER CONTENT
1. Lucky points function (Treasure) update: add weapon skin chest, enchantment chest and carnival chest.
2. Improve PVP room creation mechanism: add a matching view.
3. Optimize the armor reforge feature: lock the attributes you want.
4. Lots of new items in this version: 2 holiday-limited weapons, 1 holiday-limited armor suit, 4 holiday-limited weapon skins, 1 special weapon, more than 20 rare weapon skins, a large number of weapon enchanted cards...
5. Fixed a lot of bugs.
Thank you for your wait and support! Happy holiday!